Full Service Asbestos Management Programs
Proactive, Full Service, Asbestos Program Management
According to the Occupational Safety and Health Administration (OSHA) and the Environmental Protection Agency (EPA) all suspect Asbestos Containing Materials (ACM) are presumed to contain asbestos until proven otherwise. What are suspect ACM?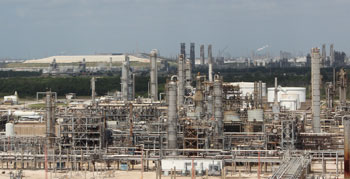 Thermal System Insulation (TSI)
Surfacing Materials such as spray applied fireproofing, joint compound, wall texturing and other trowel or spray applied materials.
Miscellaneous materials like mastics, asphaltic compounds, resilient floor coverings, roofing materials, ceiling and acoustical tiles, and refractory materials and other cementacious materials.
Asbestos management programs can be one of two varieties: proactive or reactive. A reactive program presumes all suspect material to be asbestos (PACM) and only conducts thorough inspections for ACM on an "as needed" basis. This approach is a valid Operations and Management (O&M) Program in the eyes of the EPA, however it has limitations. Unplanned events and discovery work often make emergency inspections necessary. This results in rush surcharges for laboratory analysis, idle maintenance crews, possible accidental exposure to personnel, and in some cases can even delay the startup of a production unit or postpone the re-occupancy of a renovated building. In addition to the premium rates that need to be paid to Asbestos Consultants and Laboratories, delays can cause significant project cost overruns and lost production opportunity. Personnel exposure to disturbed PACM also requires the initiation of the emergency response system and medical follow up action.
A proactive approach to your asbestos management program can minimize these impacts. Simply put, this approach allows you to know the location, condition, and concentration of asbestos in any given building, process unit, or plant. Turnstone EH&S can provide these services at a cost effective rate. Our approach will provide you with comprehensive survey reports, estimates of your quantities of ACM and the corresponding asbestos concentrations, and a sortable database that can be cross referenced for easy verification. In industrial environments, we will document each sample collected with an indelible, legible mark documenting a unique sample number to allow for easy field identification of ACM and non-ACM. Turnstone will also work with your insulation and/or building contractors to document that all new materials installed are confirmed to be non-ACM and develop a marking system to make visual identification possible. A proactive approach also can reduce the risk of fugitive emissions and accidental exposures by assessing the condition of confirmed ACM, allowing you to proactively maintain your in-place ACM and avoid fiber release episodes.

Please contact us today for a free consultation!